Ever wanted to see all the details of your build definition including its steps, triggers, history etc in a neat report so that you can print it or share it with a colleague? Well, now you can. Just export the build definition as PDF and get everything printed in a neat report. No need to click individual build steps to see build step arguments, also no need to browse individual tabs to see triggers, history etc.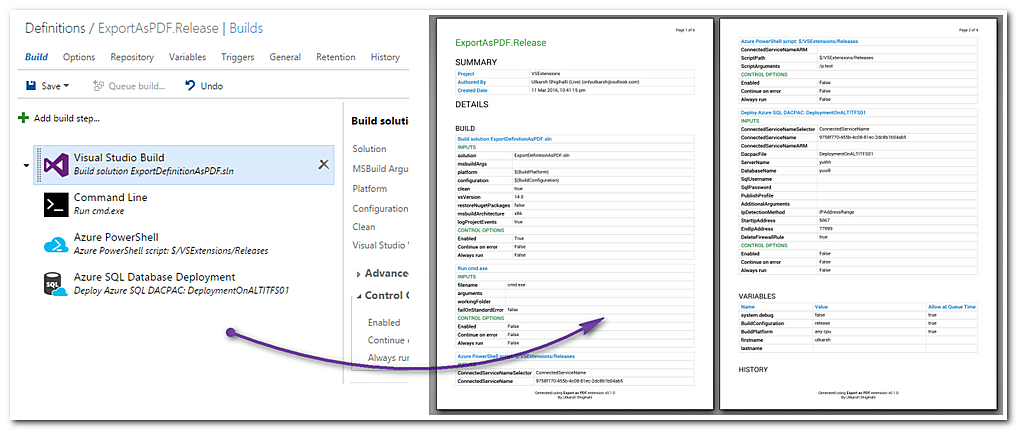 Get Started
Get it from Marketplace: http://bit.ly/exportaspdf
Note: The extension only supports new (non XAML) build defintions.
Once you install the extension, go to Builds hub and right click on any build definition. You will see a new menu item Export as PDF. Click on it and you will be able to select what to include in the report. Seclect the sections you want to be included in the PDF and click Export as PDF. The extension will scans your build definition, gets the details and generates the PDF which can be saved to your drive.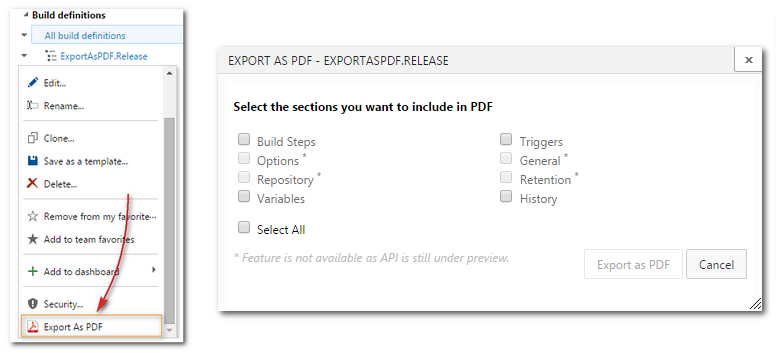 What you can export?
You can export following properties of the build definition.
Build steps
Variables
Triggers
History
Limitations/Known issues
Due to VSTS REST API still being in a preview, following build defintion properties cannot be exported as of now. They will be supported in future versions of the extension.
Options
Repository information
General tab
Report Issues
Found an issue or want to suggest a feature? Add them at http://bit.ly/exportaspdfissues
Share
If you like this extension, please share with your colleagues and spread a word with a tweet!
---